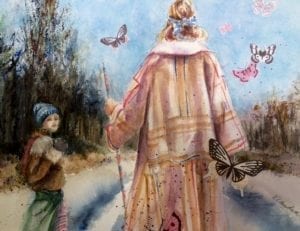 The Importance of Differences. . .
If it seems that I persist in speaking of differences in perspective, it is because that is what makes us unique,  it is because of my intense desire to keep our planet alive and this classroom operative for those already here and those yet to come, who desire to make a difference.  Children are our hope that any differences can be effective in making this the best of all learning places.
In one of Doris Lessing's Shikasta series,  the  2 percent difference the woman speaks of to the psychiatrist is a big difference when the issue is quality of thought.  And the 2 percent in the quality of thought puts both people,  the speaker and the listener in different countries and maybe in different worlds though they be side by side.  So I wish to bring up the difference again and as little as a breath separates our thoughts.  Evolution?  How long does it take?  Look about our world.  Look into the eyes of children today and you could see angels walking into your heart.  Beautiful and innocent and smart.  And if someone does not step on their heads they will be able to come to you one day and say we know who you are.  You are the safe one.  You are the haven they require if the world is to progress and they are to contribute.
In Being A Child
They would say of us
we had no sense of style,
for we dressed in faded clothes
long after they were carried
out of the store.
We put on caps knitted
by loving hands and pulled
over ears fearing frostbite.
We carried walking sticks
and gently jiggled loose piles of leaves
to shunt the mice out of roosts
buried deep.
Great fun we thought.
We tenderly picked the twigs
with berries loosely held
to decorate wax covered driftwood,
simulating snow for centerpieces.
We opened books and closed books
and talked of what was
remembered from other times.
They call it hands on this day
in the language of those privileged
in private schools.
The less fortunate might one day
have a field trip in search of natural life
in an open field.  We called it
all in a day's work
in being a child.
Painting by
Claudia Hallissey