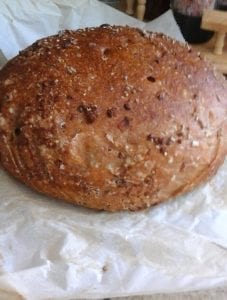 I want bread. . .thank you. . . .
I have worked out this loaf that pleases me greatly.  It is a favorite when it is fresh and toasted it is not to be believed.  An open faced cheddar sliced cheese melted on it to toast with a couple of slices of crisp bacon on top  makes it a meal in itself, with some fresh slices of cucumber and tomatoes on the side.
Few ingredients are necessary.  I had on hand a 3 ¾ quart stainless steel saucepan with cover and stainless steel handle that is perfect for a baking pan. I line it with parchment.  I did not have discretionary income to buy the elegant baking pan that was thought necessary for the no knead bread.  I had also on hand a stainless steel thin spatula from as far back as I started to cook and it works perfectly to scrape the dough into a mound.  These are the tools with a rubber spatula to make this.
My No Knead Bread
3 cups white unbleached flour     (I use King Arthur)
1 cup whole wheat flour               (I use good stone ground)
1 tsp active dry yeast
2 tablespoons molasses
2 ½ cups hot water       (put molasses in bottom of cup and add hot water and stir)
1 tsp salt                         (I use kosher)
(optional    –   added grains,  like millet,
bulgur,  flax,  oatmeal or even crushed granola)
The bowl should be large enough to let dough rise above double the amount.  I dip the measuring cup of flour in flour canister and shake to measure .  I stir all the dry ingredients very well to distribute evenly and add the hot liquid.  Mixture should resemble drop biscuit dough.  Enough liquid should be added to work dry ingredients into center of wet batter.  It should not be liquified,  just wet.  Stir to blend well.  Cover with plastic wrap or large lid tightly and put in draft free place.
I let rise overnight in oven with no heat of course or if I want it that day I put in oven with light on (some oven lights do with no heat on)  to rise in warm place.  The dough should rise for at least 3-4  hours and better if  time allows overnight.  But it can be done with no discernible difference in less time.  I have let it go 12 hours and as little as 4.
Spread a half cup of flour in a six inch circle.  When dough is double and ready, take spatula and gently turn out on floured counter with few motions.  Enough flour should be on counter to allow dough to sit.  Spread a handful of flour on top of dough and here you can add whatever grains you desire.  I add 2 tablespoons each of bulgur and millet and sometimes flax seed and a handful of oatmeal.  Sprinkle on top of mound of dough.  Whatever your favorite.
Take your steel spatula and lift the edges of the dough onto the center.  Keep doing it 12-15 times to make a firm half mound.  If you need more flour,  sprinkle more so it will not be tacky.  The less handling,  the better.  When you make  it several times,  it will be done in a few minutes.  Lift it into the pan lined with parchment.  Put the cover on and slide it into the oven for an hour with no heat to grow.
After an hour leave it still in oven with cover on and turn on  oven to 425 degrees.  Bake cold oven start for 40 minutes.  After 40 minutes , with hot mitts on lift hot cover off and put cover  in sink.  It will be hot so be careful.  Leave pan with bread in oven for another 20-25 minutes. Mitts on, be careful removing hot pan with bread and turn onto wire rack.  Peel off parchment and let cool before slicing.
This makes a healthy, excellent loaf and easier than going to the store for a loaf of bread.  My mother would be envious and grown men would cry.  That good.