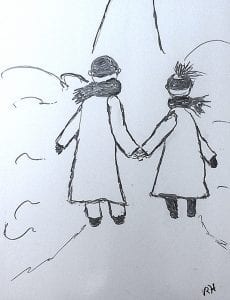 Now, tell me what you think. . . .
Now talk to me,
and tell me what you think.
I want to know the conclusions
you have reached.
Tell me what you know,
not what others have said.
I can read what they have said
about any number of topics.
I want to hear your thoughts,
and how you come by them.
What does this say to you
about how you arrive at this place
in time?
I tire of hearing what the talking heads
have read and tire of hearing variances
of the same story.
I want no quotes.  I want your thought.
You have lived long enough
to have a say, to know your gut feeling.
No time is right anymore for talk.
The devices tell with a click what is
the current thinking.  Of everyone.
I want to know why your heart keeps beating
and you keep on keeping on
when our country totters amidst
constitutional crisis.  And morality changes.
And the Earth's countries are slugging it out.
But most of all why you think
it is worth a tinker's damn to care about.
I realize I am only an audience of one,
but I want to know what you know.
I want to burglarize your mental house.
So tell me.  Your thoughts will be original to me
and I will be the richer for them.
I will happily walk to the Memory Bank with them.
It is there I have an open account.