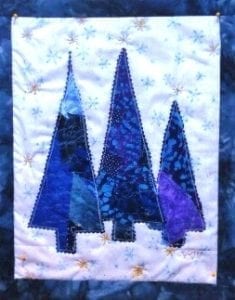 I want to show you the final results of the blue material I made on post previously.  This I completed and wanted you to see what you can do just for fun.  It is a creative endeavor and limited only by the boundaries you set.  And I hope they will be few.
The next two are embroidered with the sewing machine either zigzag or straight needle.  Or if you are at ease with free motion,  give it a try with something you can draw on material.  You limit only yourself.  Try all things, houses, barns, trees or figures in one color and then bind them onto flannel for a child's nap time blanket.  There may be no nap.                               .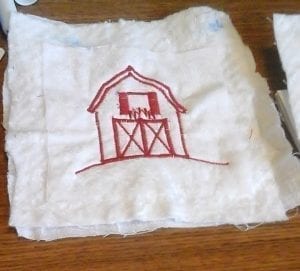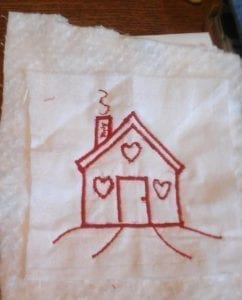 The next example are five inch squares with a central inch white strip going diagonally .  Or a wider strip.  Glue it down with a glue stick so it won't shift.  But first cut your five inch squares from an old soft sheet or new flannel sheets to mount pieces of fabric too small or unshapely for much else.  I prefer these strips to piecing because I think piecing requires larger pieces with much waste.  I prefer to use smaller pieces with strips having little waste.  You can place the squares to suit your fancy with straight lines or parallel ones or whichever pleases.  You are limited only by yourself.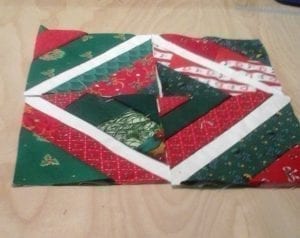 The last one are the inch squares you feel you must use .  Take web bonding and using an inch ruler and make an inch grid covering the sheet.  Lay the rows as you choose and with the wrong side of fabric on the grid press to bond.  When cool peel away from backing and on wrong side crease and stitch along the length and width 1/8 inch.  You will end up with perfectly matched squares.  Wonderful way to use scraps and I honor the genius who thought this up.
These are things you can do with materials on hand or friends eager to lessen their stash.  Old sweats can be cut up as batting to give stability.  Try your hand at drawing on materials with simple pieces.  Use coloring books as source materials.  Attach things with glue sticks before stitching.  Do not be shy with your talents.  Do and you will be shown how.  Have fun with making something substantial you can hold in your hand.  There is satisfaction in saying to yourself,  this I can do.  And do it again.
.