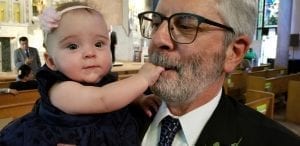 Emma E. with her Grandfather Hallissey
So She Went To The Wedding. . .
It was an evening affair.  Black and white attire requested if possible and Emma E. complied.  With a flower in her hair.  It was a union of hearts and arms resting about each other all evening.   An uncle was married to a winsome woman and everyone was happy.
Especially the youngest member of the small invited gathering who was never out of sight or hearing.
She even had ear mufflers, sound protectors, in pink to muffle the noise and music at occasions now that are magnified.  I could not attend but I have some wonderful photos taken that have me smiling at how life proceeds amidst changes and fortunately some things virtually unchanged.
Emma E. is almost 10 months old and we are grateful with the wondrous care she receives because as all life should be called, a miracle.  Born at 1 pound 12 ounces,  she has blossomed into a growing, outgoing and curious baby.  Her checkups are wonders in themselves.  Soon she will be walking out the door.  Pray that her guardian angels are alert and not sleeping.  She will try to outsmart them, I'm sure.  And she will.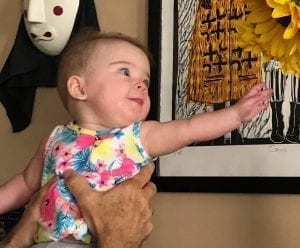 Last week's photo
photo of Emma E. with grandfather
taken by granduncle, John S. Hallissey