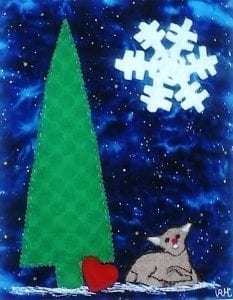 This time you will mentally shape the thoughts for this poem.  You will remember the child you were at heart and the times when the world became a fairyland.  We all have these memories and we take them out when the world becomes brittle and sharp.  With these memories,  few that they are,  it becomes malleable again and softer.  Wear with splendor these memories.  They warm you when nothing else can. 
You Washed The World . . .

You washed the world
with my love
and took it and made
a valentine of my heart.
You washed the world
with a blanket of snow
and lace formed on my eyebrows
and made my lashes
heavy with snow.
You threw me down
and I made an angel
with wings outstretched
and I stood in my finery
and it never faded nor melted.