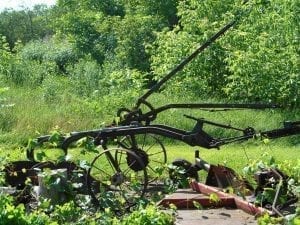 When we are plagued with a problem and have tried everything we can think of and those things we invent and the problem is still with us, we then conclude there is no answer.  If there was an answer, the problem would be solvable.
There would be circumscribed ways of doing things and we could impart excitement. With unsolved problems comes hope that somehow, someone, some way will come up with something to solve a situation that has not been thought of, has not been tried.
That is why hope springs eternal.  Not because a god will step in but that man with his many ways and histories, will bring together thinking that may yet save a people, a species, a planet.
Hope that what has not been tried before or tried before with no results, a someone will come forth to overcome a barrier and the unthinkable, the impossible and the unlikely this time will work.
When it is a person problem, we will forgive and all will be forgiven.   We will have unlocked  the door that bars entry for the pilgrim and we will be hailed the miracle.
To create peace within chaos will bring diverse peoples together.  If only within our house and that would be all that is necessary.  For if just one place has peace within its walls, all places would eventually have peace.
But we must do the footwork, be the ones to do this work as if fatigue is no problem.  For the ones who have used all psychological devices and reasons know if they see it to do, it is theirs to do.   Others may walk by and see nothing.     What to lose?  Nothing.   What to gain?  Everything.
We  may feel we are carrying the whole load but we know if we have been given sight,  we must use it.   Others may be handicapped in ways not visible.  If we continue to think that it is somebody else's job, we are the loser.
If we see it to do, and it is not getting done, it is ours to do.   Simple as that.  This is our world.  It is our present.
We will not be tired for long because we know the why of what we do.  When we do for one, we do for all and we are another step closer to brotherhood.
But we were told that.  Ours to do because we see it.  Are we god-enough to do it?
Hardest Lesson. . .
They don't know  yet,
the ones closest to me, friends and all. . .
why I do things the way I do.
It is because I know the good
in the work and the beauty in the body
doing what mind tells it to do.
It is a dance, a mind and body ballet.
It has taken centuries of many lives
to learn and it was no simple matter.
The hardest thing to purge was thinking
I was above doing such menial work.
While all the time I had to learn
how to be god-enough to do it.
photo by Kathy Qualiana