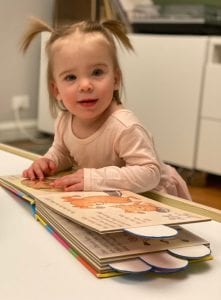 Two years ago we had word that Emma E. came to us at 1 lb 12 oz.   Over 30 years ago we had similar word of her father coming early too at a similar weight.  We have gone to our knees many times in these years begging for the best in all worlds.  And we have been blessed in all worlds.
With great gratitude celebration was held as Emma E. had her 2nd birthday.  It was appropriate that Thanksgiving was celebrated also.  She busies herself with her favorite books and talks a blue streak reciting her nursery rhymes.
What we miss in hugs we get to smile at her impish grin in photos.  With an appreciative audience she performs for laughs.  And in that laughter we have heard angels.
We would wish all children to have such welcoming and we work in what ways we can.