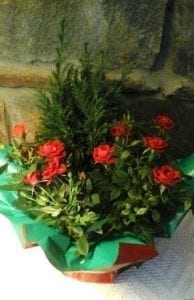 Since the beginning of December, we have been on a fast track.  Upcoming was a family vacation away for the son and in law daughter  I live with and their family and me on the premises here in California having my elder son and in law daughter visiting, keeping watch.  They worked things out pretty neatly.  I am fortunate.
And the visiting watch keepers went home to Chicago and the vacationers returned for Grandson Josh and son John to tear out the kitchen to be remodeled.  Except it included building out a wall to the house and tearing down inside walls and ravaging.
I complicated matters by coming down with my yearly bronchial cough making me sound the ever coalminer.  I sought refuge in my room because truly the cough took whatever energy I had to care whether school kept.  I did not care one iota.
We are nearing departure for Josh with the end results of remodeling to be finished by son John.  I could not conceptualize the ending result because it was so outside my frame of reference.  I am more comfortable with worlds at large and their space in mind.  More comfortable also with yarn and fabric in a wall quilt and Scandia hat.  How I supervised the addition of rooms to a previous house we lived in I do not know.
It proves to me that if one by intention shows up for work, heaven takes that as a good to go sign and shows how.  Workers have always been scarce. Just remember the vineyards that lay waiting even with the promise of all the wine on the vine!
Now that the holidays are over and everyone can relax or recover their normality, or perhaps the time this year for your family was good, we simply begin again.  I take you back to a time before the devices starting eating up our time together.
Maybe we could try to bring back some of it by looking at each other whom we know and love and caring less about the likes of those we don't even know!
I Take Your Hand. . .
Come, I take your hand.  We go to
places where our hearts share dreams.
Sometime back, in our histories
having no years, we trod places
where paths had not been worn.
It was a good time, seeing how
we formed lives with no lesson plans,
loved with no time and lived fully aware.
We remember now when the hands
of the clocks tell us we have only so much time;
only so much time to check emails, to see
bank statements, and to note how many Likes
from those we don't know.
And only so much time before
the next commercial break and then
we might have time to love one another?