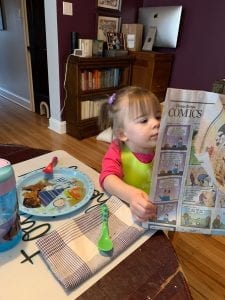 Knowing the comics section as I do, it appears that she's studying Doonesbury, which thrills my heart! Of course she's already read Dilbert (on the front page)…
Love,   Emma E's grandfather
I never knew the supreme abilities of the comics to educate.  I remember when our two eldest,  Tresy and David first took upon themselves to convince me that I should avail myself to the benefits of the education which life could not give me.  I listened over the weeks and months I am sure,  though I have no journal entry to verify that fact.
But I did listen and with trepidation, no doubt, began to look upon the comics in the morning to fill in what I inevitably lacked according to the two eldest.  And I became hooked.  It did not take long and my favorite soon became because I could relate with the myriad home crises,  For Better and Worse by Lynn Johnston.
I have a couple of the celebrated anniversary books,  the first one given to me  by the son of Tresy,  the fourth Joseph Harrison.  I  have loved these vestiges of another time and I think I will request the weekend edition of Chicago Tribune as a birthday gift.  I miss reading the comics and realize that a diet of hard lessons with no relief in  pictures,  is a diet with little flavor.
This photo of our Emma E. reading the comics during this time of self quarantine of the family is a lifting of Spirit for me.  Her grandfather Tresy  takes great pleasure in sending this photo from her parents.  Bless them all.  It is a heart lifter!