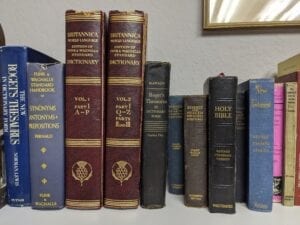 The Jenny Genes are rightly sometimes a curse as well as blessing.  It drives this writer to despair when the right word evades and the curse begins its perseverance work on me.  And search I do for the precise word.  For there is of course we think a precise word for everything.  We search through the day and half the night compelling the word appear.  Eventually we give up and lo!  The imprecise simple one is used and the heavens moan in relief.  And so the reader leaves the dictionary lay where it is.  We all take victories where we can. 
The Right Words. . .
She said the right words to the beloved.
Suck the fear out of it; it is the only way to go.
Because every morning throughout the world,
man does his ablutions in the privacy of the bush,
in the privacy of his very expensive room,
or in a modest place wherever he lives.
And hopes he releases his fear before
he appears to face beloveds and the day
overtakes him, leaving him soiled.
He whispered,. . . that is the way it is. . .
suck the fear out of it.
I don't want a dead bird hanging
around my neck for the rest of eternity.
There is no final place but a place of becoming.
It is life everlasting in all its measures.