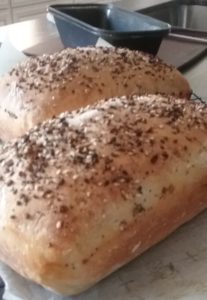 You might find this helpful if you will be having a houseful of hungry people looking for something to eat Thanksgiving morning but wanting to leave space for big bird, this you will feed them.  Everyone loves English Muffins but to have enough on hand leaves a bare budget.  This recipe makes two loaves and they are good!  And taste even better than the muffins.  Follow the recipe and don't substitute.  I have and when something is good,  I hope I have learned not to  mess with perfection. 
This yellowed recipe is from the Detroit Free Press from early 1982.  I know some of you were not born, but  I narrow the decade to the century mark.  I don't know why I seem to have lost this recipe to be found again because  even in hard times we have to eat. 
5 ½ to 6 c flour , divided
2 pkgs active dry yeast or
(4 ½ tsp measured active dry yeast)
1 Tbsp sugar
2 tsp salt
¼ tsp baking soda
2 c milk
½ c water
Cornmeal
In large bowl combine three cups of flour, yeast, sugar, salt and baking soda; set aside.
Heat milk and water until very warm (120 to 130 degrees). Add to flour mixture gradually, beating constantly. Until batter is smooth. Gradually add enough of the remaining flour to make a stiff batter. It takes most of the flour.
(I sprinkle some flour on the counter and push the batter onto counter.  It will be stiff enough to smooth and knead into a ball gently 2 or 3 times.  This I love to do because I somehow know the dough knows the feel of my hands and the love flowing through.  It is my connection and who I am,)
Prepare two 8 ½  x 4 ½ inch loaf pans greasing lightly and sprinkling with cornmeal if you wish.  Divide dough into equal parts for each pan.  Sprinkle with more cornmeal.  The directions say to cover with damp cloth.  I don't have success doing this because the cloth always sticks.  I just put the 2 pans in a warm place until almost double in bulk. For me it is a little over ½ to 1 hour. My warm place is a toaster oven with no heat of course.  Or your regular oven with no heat. 
You may have a warm place the family pets cannot reach.  Let rise an inch above the center of the pan.  It has a tendency to fall should you forget and let rise all around the pan.  If you do and it does, remove and knead lightly and let rise again.  It happened to me and took a little more time, but no calamity.  I had dressed the tops in the photo with bagel seasonings.  
Bake at 400 degrees for 25 minutes.  I have invested in an instant thermometer and wonder why it took me so long.  At 195-200 degrees the bread is done.  No guessing.  Otherwise all my life I tapped the bread like a drum for reason I do not know to this day.  To my ears it was a drumbeat.  Remove from pans and cool on rack.  Makes 2 loaves.  Enjoy and in good health.