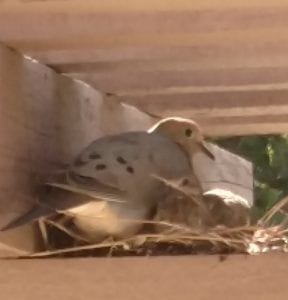 Maudie Update
Last week when I posted  Again Maudie??? and asked if doves or birds blinked intentionally, on Saturday's 15 July entry I knew.  As I bid good morning to Maudie she blinked several times.  Her eye was pinned on me and a veil dropped,  a light grey, greenish color and covered the eye.  She did it several times and drove me to tears.  She knew I questioned and she answered me.  She was turned the opposite from the way son John took her photo.  She is a dear and a good mother.
Since them I have watched her peck the eggs and the babies hatched.  I have watched her feed the babes and groom them and I have watched the babes grow overnight and inch their mother to the brink of  falling out of their nest.  I have encouraged her to push them out so they could learn their wings will hold them up.  I have stood and sat at the sink and when I turned away of course the biggest babe flew off.  And hours later the little one found his wings fluttered and gave them a try and took off.  The nest is empty.   Every species has memory and we are connected.  Maudie is a wonder and I suppose together we are both a wonder.   My loss is again a physical loss.  But my experience has taught me much.
And if I deny my experience,  I may as well deny my existence.  And I am.  If nothing else,  I am.  Nothing teaches as well as experience.  I am sure someone else said that sometime.
Journal entry
April 5, '84
'the sun still shines,
the snow will come
and so will the night.
But your way home is well lighted.'
Journal entry
January 23,'86
The son asks,  'should I drop Philosophy?'   'And I say. . . .there is no other class worth the taking.  Except History and Literature.  And Humanities.  And some others like Ethics and the Religions of Man.'